Nick came to Mid-atlantic German Shepherd Rescue (MAGSR.org) from West Virginia in 2004 as Theo, one of the three Chipmunk Puppies (Theodore, Simon and Alvin).  Adopted as a puppy and renamed Ben, he lived with his new family until he was nearly 2, when they had to return him.
After losing our beloved Bogie eight years earlier, we were finally ready for a furry family member, got approved by MAGSR and were in the process of meeting puppies to find the right one.  We got a call from our MAGSR puppy mentor: "Your dog came in last night, he's at the kennel and someone else wants to meet him." We left right away.
Upon arriving, we saw a number of dogs in the outdoor run.  One of them was jumping from a standing start to about 8' up the 10' fence.  Not jumping against it, just sort of bouncing up and down. We were introduced to Ben (the bouncer), who was very friendly and affectionate, took him for a walk and decided to take him home as a foster before adopting.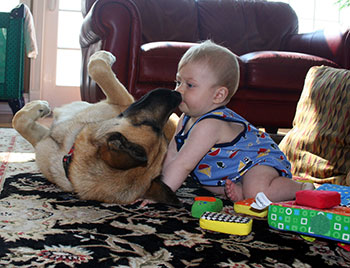 It became clear on the way home that Ben had already made up his mind about us and had also made up his mind to make up our minds too. The next day started an adventure that lasted 7 years, 2 months and 25 days; the mere blink of an eye.
Playful and full of mischief, Nick loved his advanced obedience classes until they got too easy and boring, so moved on to agility and the place he really had fun, rally.  He loved to chase his ball, which was a blessing since an hour of that was the minimum needed to burn off some of his enormous energy, and he loved to go for walks, runs, bike rides or any other activity that got him moving. From Spring through Fall, we could count on having a wet dog in the house. In warm(ish) weather, any excuse for a swim would do. When I say in the house, I really mean all over the house and the car too since, wherever you went, Nick had to go, so as to be sure he wasn't missing anything.
He was unremittingly friendly and curious and had to meet everyone on the walk, in the store, on the beach or wherever we were. He used his dashing good looks shamelessly, recognizing cries of "oh, what a handsome boy" as his cue to move in for the snuggle. He also knew when it was time to get serious and was a great protector of his pack (family, friends and fosters).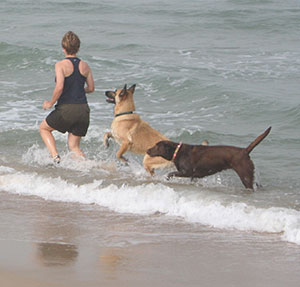 He was also a wonderful ambassador for MAGSR and adoption. At adoption events we were constantly fending off questions of "Is he available?"  Nick converted many to thinking about adoption and convinced many more of its rightness. And for some reason, his new admirers just couldn't keep themselves from stuffing his donation vest full of contributions for MAGSR.
But what marked Nick more than any of that was his loving and generous nature.  He was always delighted to meet anyone and made them feel as though they had both just made a new best friend. He shared his home with 51 foster dogs for MAGSR and other rescues and, as testimony to his extreme patience and kindness, most of those were puppies. When one nosed in on his food or mistook his nose for a chew toy, he would offer a gentle correction and set them headed in the right direction.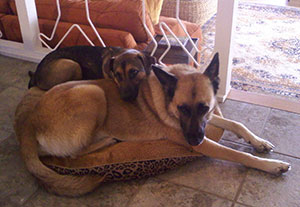 One of them, Poppy (fka Gwynn), stayed and turned into what any other Shepherd would consider the world's most annoying little sister.  Not Nick, he took her faults and all, taught her about serious play, put up with her incessant snuggling (ick), let her push him out of bed, steal his ball, and generally pester him, all without complaint. She came to think she was the boss, but when something frightened her, who would she hide behind? Big Nick.
There is so much more to tell. I have to stop somewhere.
Our darling angel left us after a brief illness.
He was our golden boy who never left anyone he met without a smile on their face or a wag in their tail.
There is a 75 pound hole in our home and in our hearts, though it seems so much larger. We will never be able to fill it, nor would we ever want to.  That's Nicky's place.
Ian, Amy, Poppy & Max
Thank you all so much for your thoughts and memories of Nick. We will cherish them. 

We put together a memorial tribute to our golden boy that can be viewed at http://youtu.be/63ZZV76lgbE